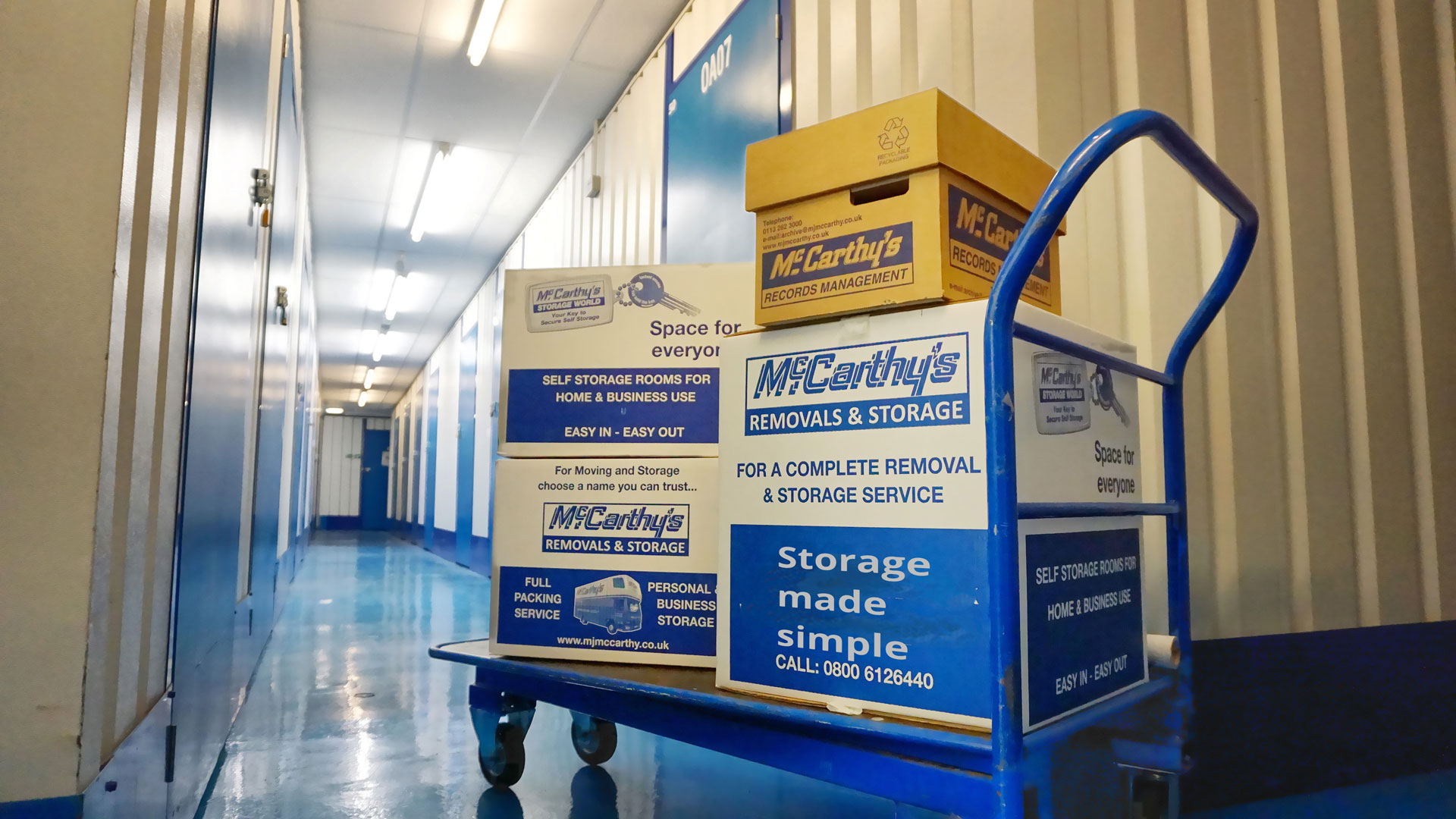 We are a proudly family owned and operated self storage company, providing storage solutions for our customers for over 50 years. We pride ourselves on exceptional customer service. Whether you are moving house, storing things for your business or a student storing over the Summer, we have the perfect sized storage unit for you. We listen to our customers' needs to make sure that we meet their individual needs. It's what we have built our reputation on.
Keeping your items clean, dry, safe, and secure and making everything simple and stress-free. We make storage simple.
Book in online now or contact one of our team if you need some expert storage advice and be part of the McCarthy's Storage World family.
Keeping your treasured possessions clean, dry, safe, and secure.
From established to start-up businesses we have the perfect storage solution to meet every requirement.
Our student storage rooms offer the best value solutions for storage ensuring you only pay for the space that you need.
How many carloads?
How many bedrooms does your house or flat have?
How many archive boxes do you have?
What size is your garage?
Looking for Personal Storage?
Our staff are storage experts and above all, friendly and supportive of our customers' needs. They will help you work out exactly what space is required for your individual storage needs in our stores. We want to make sure that you only pay for the space that you need. Our job is simple, we want to keep your treasured possessions clean, dry, safe, and secure.
To ensure that you can make the best use of your space, we have an extensive range of boxes, bubble wrap and protective covers, everything that you need to pack your items for safe transfer and storage. Security is extremely important to us; we want you to feel that your belongings are being looked after with the same care and attention that you would. We also offer comprehensive insurance for complete peace of mind.
Need Extra Space for Your Business?
Its not just about putting your items into a room, we can offer so much more. Don't wait around all day for your deliveries, get them sent straight to the store and we can sign for them on your behalf. The same works for items that you are sending out, leave them with our team and you can get on with other things. Just see our team on site as an extension of yours.
With extended access hours, you can work to the hours that suit your needs and with flexibility to upsize and downsize as required, we make sure that you have the right size space to meet your business needs at all times.
Why Choose McCarthy's Removals & Storage?
For over 50 years we have been providing high quality removals and storage services to the people of Yorkshire. The little things matter to us and since becoming the UKs first Removal company to become an Employee Owned Trust in 2021, we all have a stake in looking after our customers to ensure continued success for our business.

We have been moving people from across the street to across the world since 1968. With over 50 years of experience, no job is too big or too small for us to deal with. Our team of fully trained staff are here to provide a professional service each and every time.
McCarthy's are members of the British Association of Removers (B.A.R), awarded with both the British Standards Quality BSEN: 12522 and 8522, which recognises quality removal services.

You would obviously be concerned if your chosen remover suffered financial failure before your moving date. BAR members provide an Advanced Payment Guarantee to their customers. All BAR members are financially vetted and provide the safety net of an APG scheme.

Our experienced move coordinators look after you from your initial enquiry, right through to the removal day itself. Please feel free to give them a call!