Our History
This timeline will take you across decades passing through the history of McCarthy's Removals up to today. Scroll down to learn more about the history of the company through the decades.
1960's
The Beginning
The business was founded by Mick McCarthy in 1968 and McCarthy's Removals was born! Initially McCarthy's was run from a terraced house in Lomond Place. A far cry from where McCarthy's are based today.

Spencer Place
Six months later McCarthy's Removals moved to Newton House in Spencer Place. Incidentally this was the last long distance lorry drivers' hotel in Leeds!
1970's
Firms First Vehicle
During the 70's the company grew from strength to strength and Mick McCarthy would work day and night with whatever work came his way.
The small fleet of vans would work Saturday night's moving props and scenery for a variety of theatre companies, following them up and down the country.
The Dolphins at Flamingo Land
We even transported the dolphins to Flamingo Land. They were carefully laid on a hammock in the back of the van, whilst being tended to and cared for throughout the journey.
A Pet Lion
Although transporting Dolphins was interesting, that's not the most unusual animal McCarthy's came across during this time. McCarthy's once got a shock to find that a customer kept a fully grown lion as a pet in his back garden!
1980's
On The Move
In the early 80's McCarthy's Removals moved to their current premises on Meanwood Road in Leeds. A purpose built structure to house the growing fleet and staff numbers.
Moving Dinossaurs
During the 80's one of the more entertaining jobs we had was to move exhibitions around the country. Including this rather prehistoric one!
Leeds to Brighton and Back Again
The customer service, despite the growth of the business, remained second to none!
During the 80's, McCarthy's moved a customer 250 miles from Leeds to Brighton and once she arrived, completely changed her mind. Rather than leaving her stranded, McCarthy's brought her back to Leeds the very next day.
1990's
Moving Weaponry
During the 90's McCarthy's used to take monthly deliveries of antique weaponry to the Royal Armories at the Tower of London. There were some quite tricky situations to overcome!
We also won the contract to look after Yorkshire Water at this time.
2000's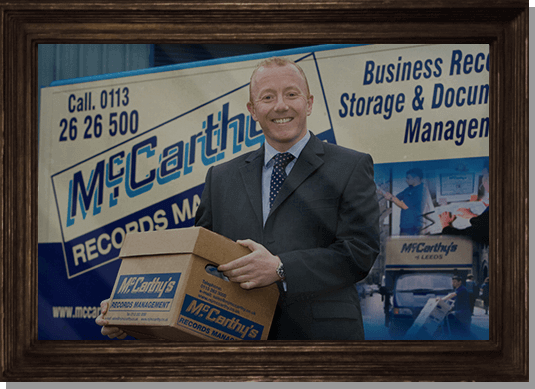 Mike McCarthy
In 2001, Mick McCarthy's son Michael (Mike) McCarthy started at the company.
Moving Brampton House
In 2002 McCarthy's moved the entire contents of Brampton House. The contents of which hadn't been moved since 1920 and took a whole week to complete!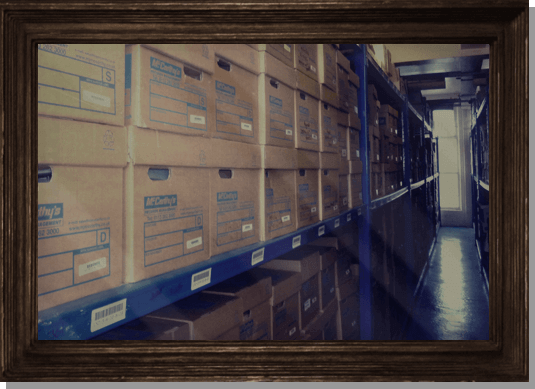 Archive Storage is launched
In the early 2000's McCarthy's started offering an archive storage service to business customers. It was a natural progression from offering business removals to then be able to offer storage too.
McCarthy's Storage World
Speaking of storage…the very first McCarthy's Storage World was opened at our head office in Leeds in 2005.
2010's
Storage World Expanded
McCarthy's Storage World has seen the biggest growth in the last decade with McCarthy's Storage World Harrogate opening in 2010.
Safe Shred
In 2012 McCarthy's started up McCarthy's Safe Shred. Again it was the next logical step in services they could offer to their business customers.
And again...
Continued growth meant that In 2015 we opened another McCarthy's Storage World, but this time in Wakefield!
Fun Fact!
The McCarthy's Bedford van was already 30 years old when the company was founded – it was originally built in 1937 and is the oldest working van in England!